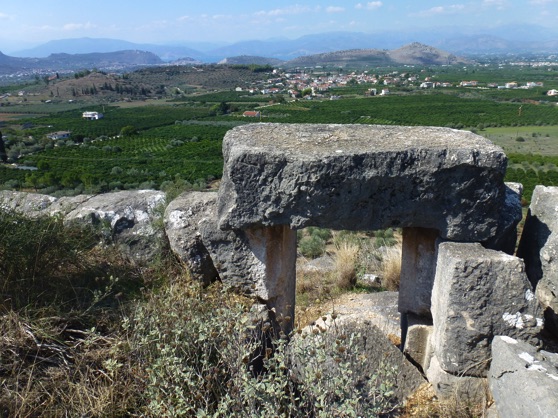 AGIOS ADRIANOS
There is so much to see in Argolis, that "nobody" visits places like this. But that doesn't mean it's not worth visiting for an independent tourist looking for the more secluded places, where the hordes never roam.
The small village of Agios Adrianos, called Katsigri colloquially, offers fine churches, a castle from antiquity, and a tower house, the latter albeit quite dilapidated.
PALIOKASTRO
The name means Old Castle, and here we are talking about the end of the fourth century before our time. On the main picture you see one of the castle's gates, as well as the stunning view towards Nafplio. At the castle you have a truly beautiful 360 degree view, and you'll regret it if you haven't brought picnic food. The castle was originally perfectly square, with walls all measuring 9.20 meters, and it was part of the defence system that in ancient times controlled the road between the city-states Argos and Epidavros.
AGIOS ADRIANOS and NATALIA
Agios Adrianos Church, or St. Hadrian, if we are to translate, sits so perfectly by a green pine forest, and is worth a visit. It is only open a few hours on Saturdays, Sundays and Mondays (2016). It's unclear how old the church is, some believe it's from 1400, others that it was erected in 1743. Natalia is the name of the little chapel located next to the church.
TOWER HOUSE
This distinctive building is located in the village of Agios Adrianos, and if doesn't soon get some tender loving care, it will collapse. The tower was built in the 1700s, and we recognize this kind of house from Mani. This has once been a home, but it's built like a solid fortress. Over the front door is an opening (machicolation), from which residents could throw stones or burning objects on intruders, and gun-loops in the walls testify that it was far from certain that the invaders could even reach the door.
DIRECTIONS
In the village of Agios Adrianos, on the central square, you will find signs to Profitis Ilias. Drive towards it, and just over halfway between these two villages are Agios Adrianos Church. To walk up to Paliokastro, standing with your back towards Natalia Chapel, walk a few meters back towards the village of Agios Adrianos, and you'll see the trail shown on the small photo below. Follow this trail, it becomes narrower and narrower, and soon disappears. But you'll see Paliokastro in front of you, and (if you are wearing good shoes) it's no problem getting up there.
Distance from Nafplio to Agios Adrianos: 7 km.
Oldcastle, Hadrian's church and a tower house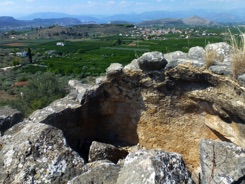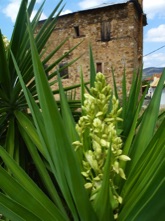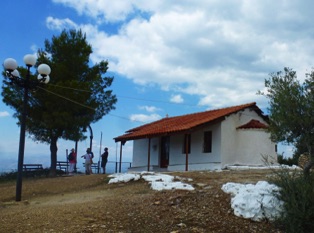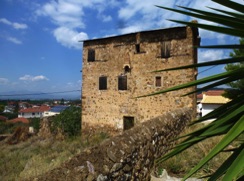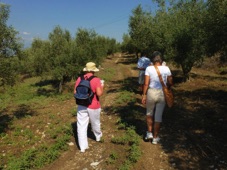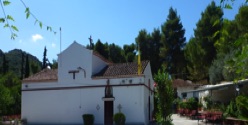 A a trapezoidal tank at Paliokastro, 3,15 m deep. For water, maybe?
Agios Adrianos (above) and
The tower house (below)
From Paliokastro you'll see several small, pointy mountains dotting the otherwise flat landscape. The nearest has a small church, Profitis Ilias. (When you see a church on a peak, high or low, you can assume that it's named Profitis Ilias.) Just this Profitis is located above the village of the same name. Why don't you drive up close to the church, and walk up the last bit? You will be rewarded with a beautiful view, and reputedly the church lies exactly halfway between Epidavros and Mykines.