ARGOS
The Nafpliots will tell you that the eagle flies over Argos using only one wing. The other wing is placed over its eyes, because it doesn't want to see what lies below. And no, Nafplio's neighbour town is no stunning beauty, but the city center has recently received a formidable facelift, and has now become a really pleasant place to be. And more: Argos has an interesting history: It is said that this is the oldest continually inhabited city in Europe. Because of the almost everlasting time people have lived here (6000 years), it is quite impossible to tear down a house in Argos, unless you have a lot of time and money. There are valuable remains of previous eras under almost every house, so the archaeologists are often called out – and come when they (eventually) find time. This makes it easier to patch up, not demolish, the houses that need excessive rehabilitation or renovation.
A jumble of narrow streets, houses and shops make it almost impossible to find your way, but the city has a certain charm that you'll notice if you spend some time here, just not drive through. And just as Nafplio, Argos has a huge market where you can buy food, clothing, etc. Wednesdays and Saturdays, and also a good selection of shops and nice squares with welcoming cafes.
Argos was a powerful city in Mycenaean times, and an equally powerful city-state in ancient times. And as we already mentioned, Argos has 6000 years of history, so you could easily spend some time here. Two large and several small sites are spread throughout Argos, and it's impossible not to stumble upon an ancient or antique remain in this city, no matter where you go. We'll mention only the most important sites here:
At the foothills of Larissa mountain, The Ancient Theatre (main photo), which is not as well preserved as in Epidavros but larger, had room for 20,000 spectators. Well, at least it had all these seats when it was built around 320 BC, about half of the seat rows are now gone. The remaining seats are carved directly in the rock, following the natural amphitheatric shape. Note that a couple of places, along two of the rows of seats, indentations are carved in the rock. Water was led into these indentations, making the acoustics even better!
In Roman times, around 100-150 BC, the stage was enlarged and rebuilt, partly to keep the audiences safe during gladiator and animal fights.
Close by is the remains of the so-called Odeon, an older and much smaller theatre that the Romans later covered with a roof (hence the name). The theatre, which is from the 5. century BC and therefore one of the oldest in Greece, was originally carved into the rock, with straight rows of seats, and was used for public meetings. It's quite possible that writers like Aeschylus, Sophocles, Euripides and Aristophanes knew both these theatres.
Between these theatres, you'll see parts of a high wall, the remains of a roman bath. This bath was founded on an earlier temple, dedicated to Serapis, a deity brought to Greece from Egypt around 280 BC. The bath, dated 117 - 136 AD, was dedicated to Asclepius, see more about him on our page about Epidavros.
Back to the Ancient Theatre. If you walk a bit over half the way to the top, you'll se a sign pointing to the right. Follow this path through a lovely park, where you can see the Nymphaeum, once a monumental Roman drinking fountain, and an aqueduct that brought water to Argos from Kefalovrissos in the mountains.
Just across the street from the Ancient Theatre, a huge field offers more history: Argos' Ancient Agora, or market place, was built around 2,500 years ago; it changed significantly under the Romans, and was almost destroyed by the Goths 365 A.D. The ruins still provides a powerful impression, especially if you can imagine the boisterous and probably both fragrant and stinking place it once was.
The Archaeological Museum in the city centre has many fine artefacts from the Neolithic to the Roman times, including a female character from Lerna, which is regarded as one of the oldest sculptural representations of a human body in Europe, and some beautiful Roman mosaics (pictured right) in the garden. Unfortunately, the somewhat sparse information in the museum is mostly in Greek and French.
In The Kapodistrias Barracks, the Byzantine Museum of Argolis is well worth a visit for history buffs, educational and interesting displays lead you through a (mainly) newer part of history than the Archaeological Museum. Read more about it here!
If you're not tired of fortresses after seeing the three in Nafplio, you can head up to Larissa, which towers over Argos. Read more about it here!
With the exception of Larissa Castle, all the mentioned sights are in walking distance from each other. They are normally open between 8:00 AM and 3:00 PM.
Buses run regularly between Nafplio and Argos, see KTEL.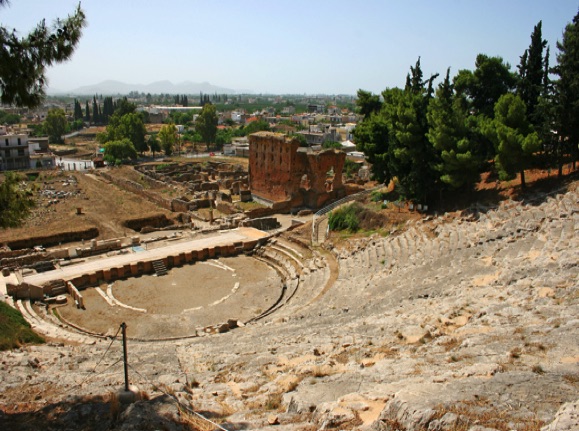 Six thousand years of rich history
Odeon, the small theatre.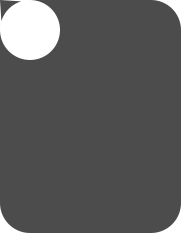 Argos or Argos Panoptis was a giant with a hundred eyes. He always had at least one eye open, and from this we have the expression Argus Eyes. Argos was the goddess Hera's servant, and when he died, she made sure that his eyes were preserved for eternity, in the peacock's feathers.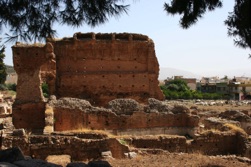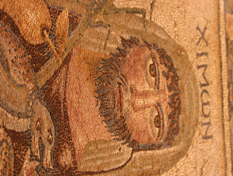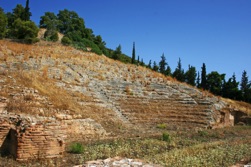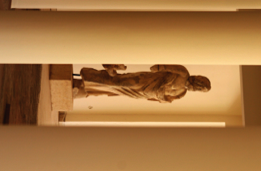 From the Archaeological Museum.
From the Archaeological Museum.
The Byzantine Museum of Argolis.