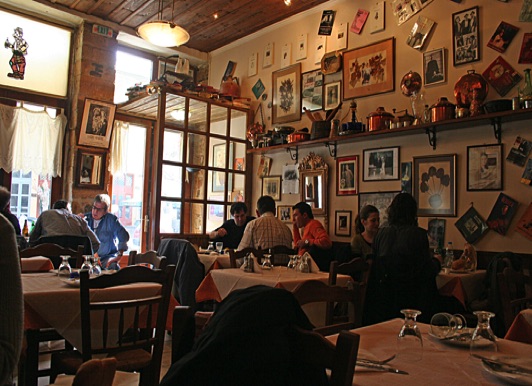 TRADITIONAL GREEK FOOD
IN THE OLD TOWN
EPI SKINIS (Main photo)
Theatre theme fills a cosy venue in the old city's busiest street. Eat mezedes with great pleasure! Chicken in ouzo sauce and meatballs in mint sauce are particularly recommended, but here, actually, everything is good. (19 Amalias)
KARIMA KASTRO
Friendly, family run taverna serving traditional Greek dishes, fresh and made with love. Try the tsipuora (bream in English), or pork fillet in a heavenly sauce of blue cheese and beer, and complement the dishes with a salad. The taverna lies sheltered in a narrow, peaceful alley. (Papanikolaou 32)
ALALOUM
The menu here is full of temptations, but there are always also mouth watering "daily specials". The food is tasty what ever you chose, whether it is a typical taverna dish, a dish that's usually only made at home in Greek kitchens, or gourmet versions of these. (Papanikolaou/Ypsilantou)
O NOULIS
He's famous for his cheese saganaki flambé, but chef Adrianos offers a plethora of home made, tasty mezé dishes, made with local produce. The menu varies with the season, and the mezedopolio (tavern) is open for lunch only in the winter half of the year, in the summer they also offer dinner. (Moutsourido 22)
PALIO ARCHONTIKO
Homemade and traditional Greek cuisine in one of the small streets behind the harbor promenade. Choose from delicious "daily specials". (Siokou)
VETO
Before a bar, now a tavern, and with proper, lovely, Greek food. Here are the traditional dishes, but also some more special ones. They serve some mushrooms in garlic sauce which is absolutely heavenly, this is the place for mezedes! (Bouboulinas)
PROPOLIS
Running waters, a pond, ancient walls and huge trees, what better setting for å tavern? Or, to be precise, a tsipouradiko - or just go for a coffee. Propolis is the place you go for beautiful and peaceful surroundings, even if it's in the middle of the town, and eat mezedes and drink wine, beer, or of course, tsipouro. A typical Greek menu. And the next best location in Nafplio.
(Beginning of 25. Martiou street)
AGNANTI
Last, but definitely not least, Agnanti. This is a pearl. This is the place that has the best location in Nafplio. The summer nights can get pretty warm in Greece, and being right next to the sea is the best place to eat. Only Nafplio doesn't have many of those taverns. Agnanti is the only one where you are just centimeters from the water. Bliss! The food here is mostly Greek, a little bit international, Mum's in the kitchen, and she knows her cooking! Not one of the cheapest, but believe us, it's worth it. Try the fresh fish!
(Akti Miaouli - at the far end, below The Five Brothers.)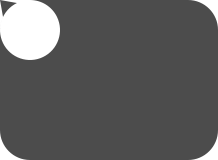 Here is a brief description of some of our favorite places in Nafplio, both for food and drink. Also, read here about Greek food!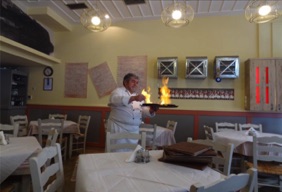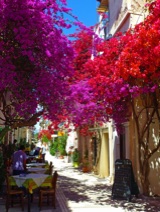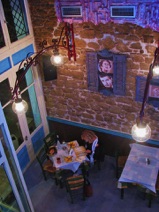 O Noulis (Photo: Julie Brooker)
Veto (Photo: Tiinamari Vilkko)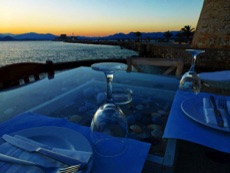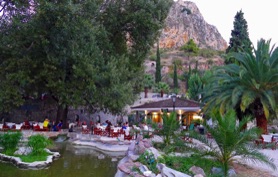 Photos: Propolis (above) and Agnanti (below).