Take a hike - or just a stroll
Argolis has something for everybody, wether your preferred walking style is lazy strolling, hiking or something in between. Or maybe you prefer to rent a bike?
Walking in Argolis' beautiful nature is something you really should make time for. Even just to stroll through an olive or orange grove can offer fireworks of colors, fragrance and shapes, especially in the winter and spring, when the flowering is at its most intense. Our favorite scent is orange flower; standing amidst the blooming orange trees is beautifully intense and almost overpowering.
But whenever you are here, smell! Not only flowers but also an abundance of wild herbs spreads their aroma in Argolis' landscape, while butterflies and other insects you've probably never seen before roams around.
The peninsula of Peloponnese has hundreds of flowers and plants that can only be found right here, and many of them grow only in Argolis. But also look upwards and maybe you'll see a buzzard or a falcon soar high up there – or a tiny chapel on a top of a hill you might want to visit.
As long as the area is not fenced in, you can, in principle, walk there, but walk with respect. Don't pick fruit and don't smoke, the ground is often very dry, and a small spark can quickly turn into a huge fire.
Whether you prefer walking on your own, or be part of an organized tour, the pages below will get you started! See also The unique flora and fauna.
A TINY WARNING
Scorpions exist in Greece, but you will hardly encounter them, as they are considerably more scared of you than the opposite. There are several types of snakes, but only one type is toxic, roughly in line with our adder. Do not let this stop you. After many, many years in Greece, both visiting and as residents, we have never seen a scorpion, and only once a snake - but it was dead and we do not know if it even was the toxic variety.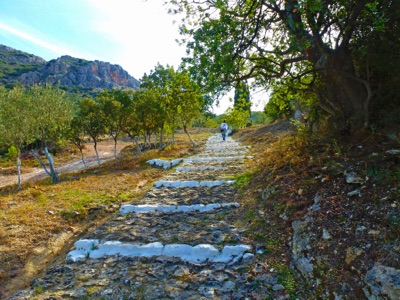 WALKING (OR CYCLING) IN THE STUNNING NATURE We don't know where to begin; there are so many excellent places for walks in Argolis that you are spoilt for choice. Here are a few of our favourites, and we'll add more....Click here to read more!
Explore like a local is Grecopaths' slogan, and they live by it. They arrange walks and hikes, bike trips, Jeep tours, dinner at a Greeks' place, yoga and other therapies in the nature, and even offer short theatrical performances. Click here to read more! Greece is home to around 6,000 different plant species and over 700 of those are endemic, meaning they occur nowhere else in the world. That equates to about 15% endemism – the highest in the whole of Europe!... Click here to read more!
THE UNIQUE FLORA AND FAUNA