Beaches in Argolis
Argolis' long coast has beaches for every taste, and if you rent a car or moped, you can go exploring and find the perfect beach for you. The water stays warm well into autumn, some people even go for a swim in winter. We'll mention just a few of all the beaches here, the ones closest to Nafplio.
ARVANITIA
Nafplio's town beach is called Arvanitia, a beach with gravel and small rocks pleasantly situated between Palamidi and Acronafplia, in the south end of the town. The beach offers sun loungers / parasols, a cozy cafe, toilets, dressing rooms, etc in the summer season. It is also fun to dive and swim from the low cliffs nearby. The beach is quite steep.
The beach area was upgraded significantly in 2014, with a substantial amount of fine gravel at the water's edge so that it is easier to get into the water.
And on summer evenings, come here to party!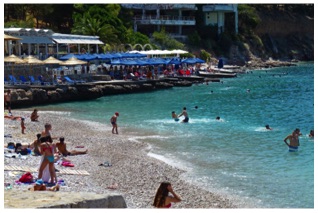 KARATHONA
Karathona is a long, sandy beach about 3 km from Nafplio.
You can walk there on a nice path that begins at Arvanitia beach (about 45 min.), or drive via 25 Martiou Street. The beach is well developed, including several cafes and taverns, sun loungers / parasols and water sports, while there is also usually enough space for those who want to sunbathe in more peaceful surroundings. In summers, bus connection with Nafplio.
Check also here for small walks you can enjoy at / near Karathona. Karathona is a "Blue flag" beach.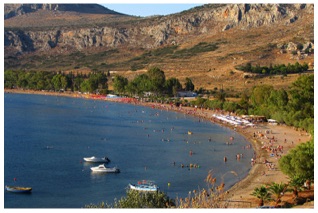 TOLO (PSILI AMMOS)
The resort town Tolo, 9 km from Nafplio, has an almost endless and well-organized sandy beach, with a wealth of sun loungers / parasols, taverns and cafes. You get here by simply taking the bus from Nafplio, which runs several times a day. A taxi will cost around 15 euro (2015).
Quite often, a whole lot of people will be at this beach, because there are a plethora of hotels and campsites nearby. Come quite early summer weekends if you want a good spot!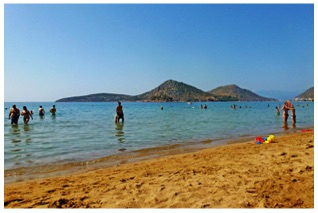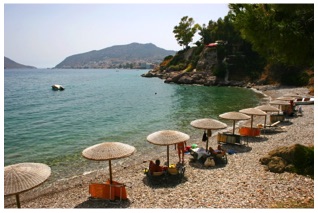 PLAKA DREPANO
Plaka is a somewhat quiet beach, which few tourists visit, other than the Athenians who have holiday homes there.
It's a long sand/gravel beach, without many facilities, but at least it has some nice taverns serving delicious fish, and a handful of sun beds. In addition there are many campsites near the sea, and that's great, of course, if you enjoy to holiday in a tent.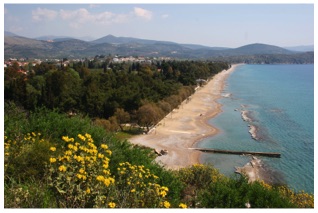 VIVARI
In the small village Vivari, we find yet another gravel beach, with a few parasols / sun beds as well as two or three cosy taverns by the sea. This is one of our favourite beaches, usually peaceful, calm sea, great food to be eaten at the beach - To Delfini is our favourite taverna.
A few meters further east from the main beach there are a couple of tiny beaches, which you, if you are lucky and a bit out of season, can have all to yourself.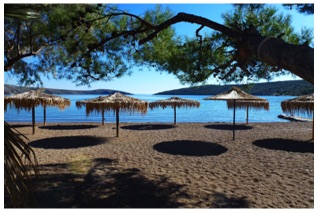 KONTILI
Once again a long beach, this one is covered in fine gravel. Usually with quite few visitors, especially if you walk southeast. Also, nudism seems to be ok at the south-eastern part of the beach. The water in the northern part of the beach is quite deep, just after a couple of steps into the sea.
The small white church that can be seen on the promontory, Ag. Nikolaos, can be visited by wading or swimming there.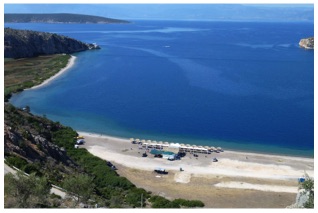 KANDIA
A neverending long beach with sand, gravel and pebbles. It's easy to find peaceful spots here, but also very nice to stay on the part of the beach which runs parallel to the centre of Kandia. Here's a really good fish tavern and some cafes as well as loungers with parasols. Between Kandia and Iria, see below, is Kandia's Castle, a truly massive hotel that looks like, (you guessed it!), a castle, with luxury restaurants and thalasso therapy.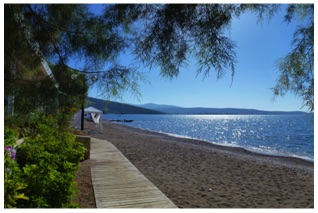 IRIA
Narrow and, to be honest, a little unexciting gravel beach, with some parasols / sun beds. Camping nearby. Otherwise, Iria's claim to fame is artichokes, which are grown in great numbers here, and are celebrated with an artichoke festival every May.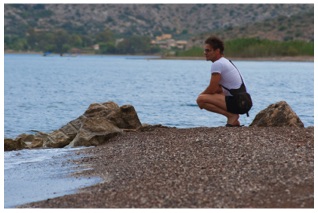 NEA KIOS
Just west of Nafplio and towards Nea Kios runs a sort of sandy / pebbly beach, but it's very, very shallow, and has pretty much mud on the seabed. This mud is said to do wonders for your health, and you can see people walking on the beach covered in black mud. Also, 180 bird species have been seen here, in this area called Kalivia.
In the small village of Nea Kios the beach is covered in pebbles and small rocks, you'll find some umbrellas and some good fish taverns.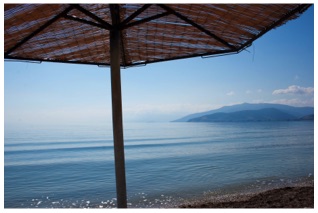 MILI
In the village of Mili, we find a beautifully situated gravel beach and pebble beach (with a small harbour inbetween), both with a few umbrellas, and nice taverns nearby. In Mili, you can also eat good "Souvlakia", kebabs, and visit Lerna, where you'll find the remains of a 5000 years old palace.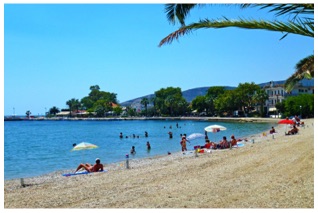 KIVERI
Kiveri is the last village on the southwestern coast of Argolis (16 km from Nafplio.) The photo shows the main beach, a fine gravel beach with parasols. If you walk further down the coast, past the pier where some fishing boats are anchored, you'll reach a small rocky beach. Both are nice places, often with quite few visitors. Taverns are close to both beaches.
If you drive further south, you'll enter Arcadia County, which also has a coastline studded with beaches. See also P. Astros.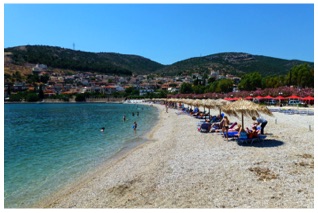 No need to leave the beach even if the sun sets, if there is a tavern nearby. In summer there's nothing much better than sitting next to the sea and eat good fish or whatever you prefer, as the sun sinks, giving way for the velvet night. The pictures are from Palitsakis' fish tavern at Karathona Beach.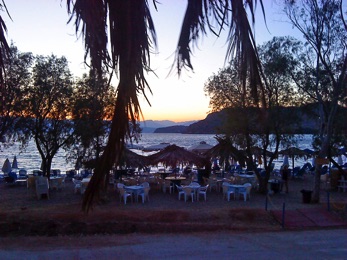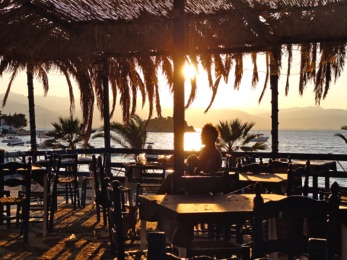 The beaches we have presented so far are located southeast of Nafplio, with Iria the furthest away, yet only 25 km from Nafplio. Now let's go southwest of Nafplio:
BANIERES
Nafplio's old Lido is close to the old town, very handy if you have a hotel nearby and just want a dip or do some serious swimming. Quite deep, so this is not where you bring young kids, but it's a beautiful little spot, and there's even lovely a bar, Omilos, there, and a great place to eat, Agnanti. (See our Eat and Drink section for more info on these places.)
So close to the old town, but so peaceful! And the added bonus of a view to Bourtzi and the walls of Acronafplia.
Follow Akti Miaouli, passing the lighthouse and walk a few metres on the path around Akronafplia, and you are there.