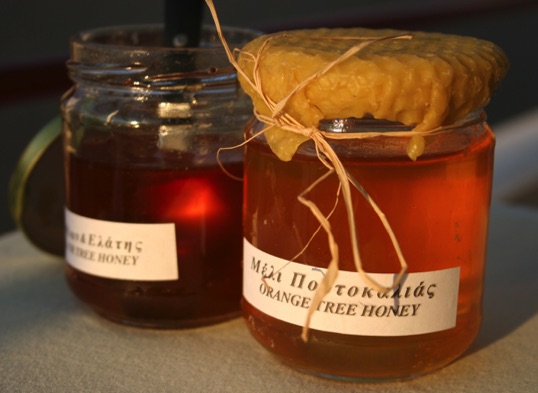 WE LOVE SHOPPING
You will find a lot of nice, not to mention good, stuff you can bring home from Greece at the end of your holiday. I do not write about the typical guidebook-tips, like craft / pottery, icons, gold and leather, but other things which I love and tend to buy home myself - though not all of them at once. There's a lot of foodstuff, I am certainly abnormally interested in food, but also a number of other shopping ideas. And more will come.
NB: The information on this page was originally written for Norwegians. There may be products mentioned here that are illegal to import to your country.
Shopping ideas - what you could/should take home from Greece
SHOPPING IDEAS - OTHER STUFF
OLIVE SOAP
Olive Soap is available both scented and unscented, and is wonderful on the skin. Souvenir shops sell these, but quality-wise it's safer to buy them in pharmacies, in supermarkets or at a Hondos Center (large cosmetics brand, in Nafplio it's located in Asklipiou Street).
OLIVE
You are not allowed to bring home an olive tree on its root, but there is a vast array of objects made by olive tree. The olive tree grows very slowly, and thus becomes a very hard, durable wood that can withstand tough treatment. If you buy kitchen appliances, they should not be washed in the dishwasher, but hand washing with warm water and soap is fine. Rub a little olive oil on the object, and it stays nice for ages. In Nafplio, there are two stores in Staïkopoulo Street, which sell articles made of olive tree.
KORRÉS
Greek beauty and wellness products for hair, body and face. A great brand that I am completely dependent upon. They base their products on natural ingredients, the scents are (usually) not overpowering, but always delicious, and the products do what they promise. (And I do not get a penny from Korres to write this, I must add.) Korres are sold at many but not all pharmacies in Greece, and the range varies from pharmacy to pharmacy. The pharmacy in Syntagma Square in Nafplio has a pretty good selection, at the time of writing.
Here are links to Korres' European and American shops, but it is considerably cheaper to shop in Greece.
SHOPPING IDEAS - FOOD AND DRINK
Buy foods in supermarkets or at the outdoor fresh food markets if you can, not in mini-markets or typical tourist shops. Then, in general, you're sure to get the freshest produce, at a lower cost.
OLIVES
I prefer large, meaty Kalatama olives, but that's a matter of taste, of course. Sundried olives, which are wrinkled and slightly sweetish, are also a delicacy. Buy vacuum-packed olives, they are easiest to transport in your suitcase.
OLIVE OIL
It is obviously a problem to bring fluids on the plane, unless you shop at the airport. I buy olive oil in plastic bottles, either in supermarkets or in small booths that are on the road in the countryside, then I pack them in tightly knotted plastic bags, fold a towel around and cram everything into a new plastic bag that I tie well. But some airlines do not allow liquids in your suitcase, I've heard...
OLIVE PURÉE
Greek tapenade sold in small boxes, which you can put in those litre bags that are allowed to bring through security checkpoints. You can make this purée yourself, by the way, see here.
DRIED CELERY LEAVES
Superb in casseroles, sauces and soups. Sold in supermarkets.
DRIED OREGANO
Because the Greek is the best. On the whole, you may want to buy many dried herbs from Greece; they're cheap and weigh nothing.
SAFFRON
Expensive and delicious, but do not buy from the souvenir shops, because it's not certain it's saffron in the bag even though it says so. The Greek red saffron is considered to be the world's best, at least the Greeks say so.
GREEK SEA SALT
Greece annually produces up to 200,000 tons of sea salt, and it is nice to take a small fraction of that salt home. The Greek sea salt contains relatively little sodium and iodine, but has lots of trace elements. Well it tastes good anyway.
MASTIC
Mastic is a resin that is only found on the island of Chios, which is the only place in the world where the mastic trees grow for resin extraction. The resin was used as chewing gum for nearly 2,500 years, but today it's much more common to purchase gum made with some mastic. You can buy a little mastic and use it as a spice in cakes and desserts.
PASTELI
Have you tasted these little honey and sesame snacks? You are either totally hooked or will never eat them again. Try one, they are sold everywhere!
MOUNTAIN TEA
The Greek mountain tea was first drunk by shepherds, because the plant only grows high up in the mountains, above 1000 m. The plant, called Sideritis in Greek, gives a tea that is said to cure everything from colds to stomach pains. Science has actually proven that the tea protects against osteoporosis, and has a high content of anti-oxidants. You use about 20 grams of tealeaves to 1 litre of boiling water. Drain the tea after ten minutes, and drink it with or without a little honey.
WINE AND SPIRITS
Again, must be purchased at the airport if you are not crazy enough to put the bottles in your suitcase. The major airports have good wine selections, smaller airports not so much. One suggestion is to note the grape variety of wines you taste and enjoy during the holidays, and then buy wine from this grape if you cannot find your favourite brand in the duty-free shop. My favourite grapes are the white Assyrtiko from Santorini, and the red Agiorgitiko from Nemea. The sweet, red wine, Mavrodafni, Greece's "Port wine", is also lovely. And maybe you like Retsina?
The two famous Greek liquor varieties are the anise-flavoured Ouzo and the chest-hair-growing Tsiporou. You can probably buy them at most airports that have a shop.
CHEESE
If you're buying cheese while in Greece, do it in the cheese shops, where you can sample the different tastes. When you find one or more cheeses you like, note the name and go to the supermarket to find the vacuum packed varieties to bring home. Note that the vacuum-packed feta has a few drops of brine, so do not pack it in your hand luggage. Suggested cheeses you can sample other than feta:
Graviera - hard, yellow cheese made of milk from sheep and / or goat, plus maybe a little cow's milk. Slight sweet taste. Greek version of Gruyere.
Kefalotyri - hard, yellow cheese with a distinct taste made from various milk types. Used in au gratin dishes or grated over pasta dishes. The Greeks' answer to pecorino.
Kaseri - A softer cheese, made mainly on sheep's milk, quite mild and salt. The Greeks' mozzarella.
Manouri - creamy white cheese made from goat's or sheep's milk. Quite mild and fresh. Excellent in pies or just with bread. Trickle a little honey over, if you like.
Mizithra - When fresh, it's a creamy, white cheese, like cottage cheese only with flavour. If you buy a stored version, it's harder and pungent, and used in au gratin dishes .
Note that there are many local dairies in Greece, and cheese varieties differ in taste from place to place, even if they have the same name. Good cheese shops sell e.g. Graviera from two, three, four dairies, while in the supermarkets usually cheeses from the large, nationwide dairies are stocked.
HONEY
Again, problems with transportation home. But Greek honey is wonderful, so I would really recommend to buy some glasses. Thyme Honey is considered the best, but I am equally fond of orange blossom honey. Try also pine honey, rosemary honey, lavender honey, etc.
COFFEE
If you like Frappé, you should buy a big box of Nescafe home. No, I'm not kidding. The Nescafe in Greece are in fact burned harder than the one we can buy in Norway, and the Frappé tastes really more Greek if you use the right coffee.
Have you, during your stay, tasted the Greek version of espresso, so-called Elliniko kafés or "Greek coffee", maybe you want to put some bags of this dark, finely ground coffee in your suitcase. In addition, you should buy a briki, the small, narrow metal pot you need to make this coffee (se pic. above). Without it you will not get proper foam.
EGG COLOUR
For those especially interested: At Easter, the Greeks cook lots of eggs in red, yellow, blue and green dye. These colours iare much more powerful than the food colours we can buy at home, but can be difficult to find out of season.
From the top: an auspicious pomegranate, a handmade necklace, Greek coffee and briki. Buy something that matters to you!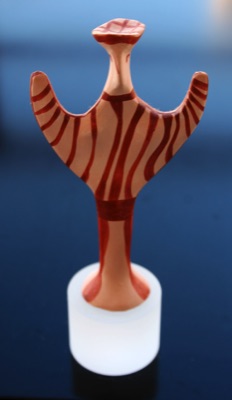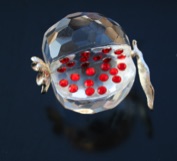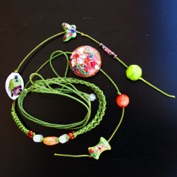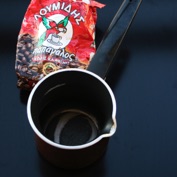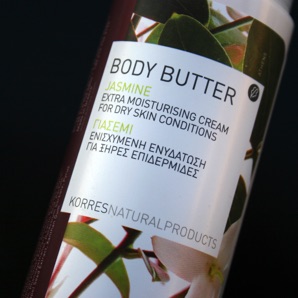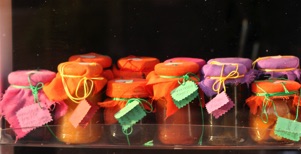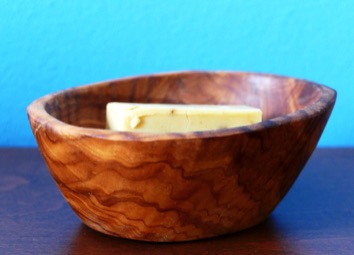 Bowl made of olive tree and a soap made of olive oil.
AND MAYBE ALSO…
Finally, the little things that you either might as well buy at home, or do not really need, but that will remind you of your holiday when you see or use them.
It may be a Greek toothpaste, a box with "mpeikin paounter" (baking soda), a box of Greek chicken seasoning, an orange metal jug just like the ones some tavernas use for serving wine, a lighter with Greek text, a copy of a Mycenaean female statue, a CD with Greek music, a komboloi, a calendar ... And with regard to the calendars, don't buy the typical touristy ones that always have pictures of the over-commercialised island of Santorini, but rather visit a bookstore and check what they sell there.