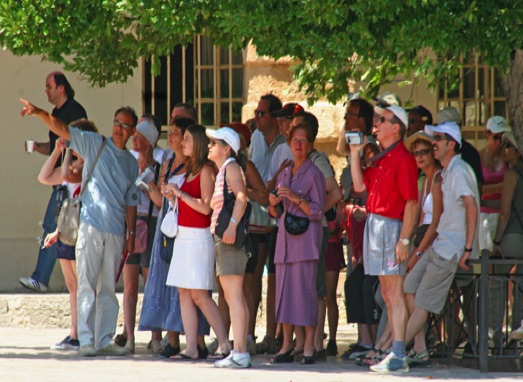 WHAT YOU SHOULD KNOW:
RECEIPT
Be sure to get your receipt every time you buy something. It may, albeit rarely, be inspectors just outside the store / restaurant / tavern to check this, and without a receipt you can get fined.
GREET
According to Greek custom, the stranger is supposed to say hello first. The Greeks are greeters big time, so say hello to "everybody". And remember to always say hello when you come into a store and a tavern, or you'll seem rather rude.
AND WHILE WE'RE ON THE SUBJECT
Most Greeks speak English quite well, but you will be extra warmly welcomed if you at can say hello in Greek. If you only learn one Greek word, it should be γεια σας, pronounced Yásass, which means both hello and goodbye. Well actually it means (to) Your health, but this is the most common greeting.
TOILET DOORS
A large proportion of toilets in cafes, bars and restaurants are without locks. This is usually not a problem for the Greeks; a closed door means the toilet is taken. The problem is that tourists do not behave as Greeks, and close the door behind them even after they're done. Therefore, if the door is closed, knock on it!
AND WHILE WE'RE ON THE TOILET
Never throw toilet paper in a Greek toilet! The piping system isn't designed for such use. There will always be a bin next to the loo for paper etc.
WATER FROM THE TAP
You can generally drink tap water. If it has it been a dry year, the water may contain a high proportion of minerals, and then the Greeks won't drink it, but for a week or two, it's ok. It may also have high chlorine content, so maybe you'll prefer bottled water anyway.
RELAX!
Some of us Northern Europeans are often accustomed to a better organized country, where things usually go smoothly and take place at the time they're agreed to happen. That is not always so in Greece. The Greeks often relates to GMT, Greek Maybe Time. So if, for example, the rental car is not ready half past eight as agreed, enjoy a coffee at the nearest coffee shop, the car will (most probably) come soon.
Greek life and stuff that's nice to know about it
THE GREEK YEAR
January 1
New Year, and the day of Saint Vasilis. He is also the man who delivers gifts to the Greek children, not Santa.
January 6
Epiphany, this day marks the revelation of Jesus as the Son of God, a holiday in Greece.
February 1
Is the day Nafplio's Saint Anastasios died, a holiday in Nafplio but without much celebration. Public offices are closed, as are many of the stores, but the cafes / bars and restaurants are open.
February / March is carnival time. The seventh week before Orthodox Easter Sunday starts with Kathari Deftera, "Clean Monday", and the fast begins. This weekend the carnival is celebrated in Nafplio and surrounding towns, including the burning of the carnival king in Nafplio's harbor Sunday evening. The Clean Monday is a holiday in Greece, and if you go to Karathona, you'll see that the beach is full of kites in bright colors. There are, in fact, strict rules for this fast, but some do not care at all, others are trying to stay away from "all food that has had blood in it."
March 25
Liberation Day. In 1821, the Greek flag was raised for the first time in the monastery of Agia Lavra in Kalavryta, Peloponnese.
This day is also celebrating the Annunciation, and a couple of days before there is a huge market in Pronia, which sells everything you can think of, and a bit more. Try the roasted pork!
April or May
The time of the Orthodox Easter will not be calculated the same way as in Britain, but will be sometimes in April or early May. Easter is an important holiday in Greece, and it's a great experience to participate in the celebration, like the lamb that's grilled Easter Sunday. Several taverns in the old town grill whole lambs this days, so enjoy!
May 1
Is not only the workers' day, but also the Spring Festival. Picnic in the countryside is a popular activity, and also organized village feasts in some places.
August 15
Many Greeks go home to "their" village or island this day, Virgin Mary's Day (Assumption), so expect full hotels and busy public transport, and chaos on the roads. But find yourself a table somewhere on a square in the evening, and enjoy the intense life!
October 28
Ochi (No) Day is celebrated with speeches, military and children's parades. This day in 1940, the Greek General Metaxas said "No" when Mussolini told him to let the Italian troops into the country. His answer sent Greece into the Second World War.
December
Christmas Day is the most important day. It's celebrated with good food and family parties just like we're used to, and people exchanges gifts.
In addition, Greeks celebrate name days, but rarely their birthdays. Each city or island is protected by its own saint, and in several places, especially in smaller villages, the saint's name day is celebrated for one or more days. Try to participate in such a party!
Nafplio never completely closes, even if it's a holiday.
You will always find a café, bar or tavern that's open. Well, more than one, actually. Just remember that the holidays fill up the hotels, so book accommodation before you arrive.
BECOME A GREEK
Isn't it strange? We would rather not be mistaken for tourists. Only all the others are tourists. We are more like visitors. Here's what you must and must not do if you want to be more Greek:
1.Sit with your back completely against the wall of the café, preferably side by side if there are two of you. Only then you'll have the full control over your surroundings.

2.Do not wear (only) shorts or bikini (except at the beach). The Greeks generally wear more clothes than tourists, and are better dressed in general.

3.At the café, buy Greek coffee or frappé (iced coffee). Stir frenetically in the frappé; use at least an hour to drink it, preferably two.

4.Fiddle with a komboloi, especially if you are male and over 50.

5.Smoke where it suits you, and talk a lot on your mobile, even at the table.

6.Forget about cameras around your neck, backpacks and bum bags. Men carry their belongings in their hands or pockets, ladies use handbags.

7.Eat dinner from 9 PM onwards. Eat a lot. But eat
more for lunch.

8.To pay the bill at the tavern, don't use a calculator (literally or otherwise) to see who pays for what.
9.Be quiet between three and five o'clock, during the siesta. Do not slam doors, shout, play music on the balcony, etc.

10.Binge drinking is not for the Greeks. They do not treat alcohol as a drug but as a good companion to food. In other words, drink in moderation, or at least look like you've done that.

11.Park your car wherever you want, but remember to switch on the emergency lights before you leave it. (You must accept a fine or two, but...)

12.Do not stress, but walk as if you know where you are going and don't stop gaping to admire every kitten, black-clad granny or blue painted window frame.

Will the Greeks be fooled? Not at all. But you may fool some of those tourists...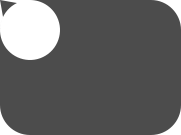 Nafplio: Where the Greeks go to get away from us all.
Jeremy Atiyah, The Independent
The first ever Christmas tree in Greece, was decorated by King Otto's men in Nafplio in1833. Up to then this tradition was unknown, but it soon spread all over the country.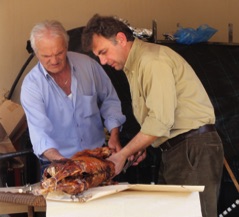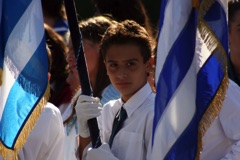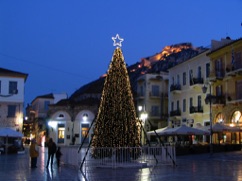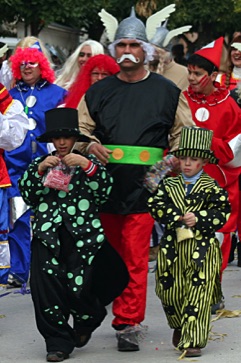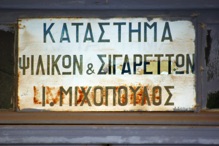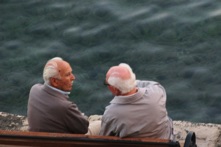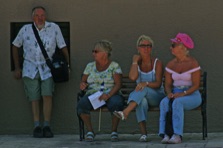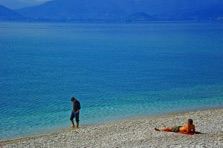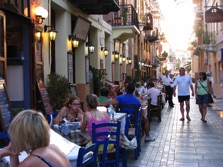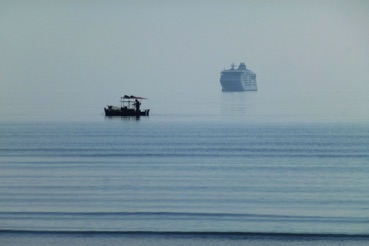 "For tips on effective and creative profanities, listen to two Greeks who quarrel. My dear! It's as if you sit glued as a stamp to the wall just by the aerodynamic force they create! Even I lose the ability to speak for a moment.
But after a while, when all matters and people have been thoroughly dissected, all the anger seems like sunk into the ground, and the two buddies are just as good friends as they were before the quarrel broke out (and that seemed just as bad as if the sky should fall down). It may well be the two go for an ouzo together afterwards. And probably they'll find something to celebrate as well, for the Greeks celebrate absolutely everything they can celebrate. Not only saints or churches, there are festivals for sardines, chestnuts, nuts, wine, olives or donkeys. Everything must be celebrated!"
Erica Berlin, Swedish Philhellene