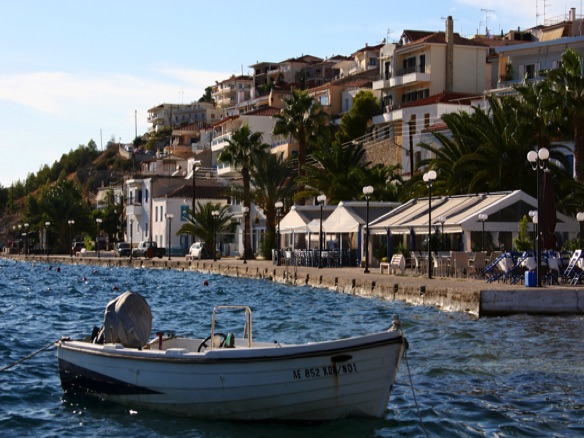 ERMIONI and KRANIDI
Ermioni is an unpretentious, pretty village, which is built on a narrow headland. Thus, the small town has water on two sides and also an enchanting pine forest at the tip of the cape. Lovely!
The city's centre, so to speak, is the north facing part, called Limani, Harbour, (pictured above). Here rests the permanent residents' fishing boats and tourist yachts side by side, here hovercrafts can bring you to the Argo-Saronic islands, and here are also a few shops, some cafes and a handful of taverns that serve good seafood. The south part is called Mandraki (pictured right), mostly cafes and bars lives here, with a few restaurants here and there. And in between it all, streets that charmingly run in all directions, and the small houses in white, yellow and ochre.
Bisti, the pine forest (pictured right), east of the city, is a delightful spot, walk on trails along the waterfront or sit under the fragrant trees with a good book or some bread, cheese and wine.
If you would like to swim you have to do it from the low cliffs or rocks, but there are sandy beaches both north and south of the village.
Ermioni has been here for 4000 years, and we understand why, because few villages are built a more picturesque place!
KRANIDI, located a short distance from Ermioni, is a town scattered on the hillside of the mountain Anna. This is Argolis' south area's "capital", a nice, traditional village, with fine Byzantine churches and monasteries in the vicinity. In the city itself there aren't really any sights to speak of, but it's nice to sit on the busy main square, or stroll around and look at all the houses with gardens - not so common in Greek towns.
There is a bus a few times a day from Nafplio to Kranidi. The trip takes almost two hours. You can take a taxi from Kranidi to Ermioni, the taxi rank is right by the bus station in Kranidi. Distance about 8 miles, cost about 15 Euros. There is also a bus between the two towns, but they don't necessarily correspond with the Nafplio bus.
You can pass Didima on the way to Kranidi and Ermioni, and if you have your own car, be sure to visit these huge craters!
Distance Nafplio - Ermioni: 72 km.
A pine forest village by the sea
A few kilometers from Ermioni going north, you'll find this georgous gorge, hiding two tiny churches - one (Agios Anargyri) with picnic tables and fresh spring water, lush vegetation, a cave said to be the entrance to hell (Hades), all easily accessable by a footpath. Come in the spring if you want to enjoy the wildflowers, but this path is beautiful all the year. Wear sturdy shoes and bring water.
Katafyki means refuge, the locals used to hide here, both from pirates and Turks, now it's just a peaceful, green, adventure.
Grecopaths can arrange a trip here, if you prefer going with a guide.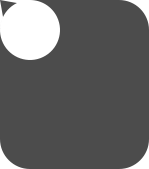 In the Kranidi area, many celebrities have second homes, for example the Russian President Putin, the actor Sean Connery and the Dutch King and Queen.
Mandraki in Ermioni (above),
and the pine forest (below).