PORTO HELI
South Argolis may not be as packed of Mycenaean and ancient monuments like the rest of the county, but take a trip anyway! The beautiful and unique coastal landscape is ideal for a slow drive, and many swimming and/or photo opportunities arise.
Porto Heli is the closest you get to a jet-set town in Argolis, but that does not mean that this is something like St. Tropez. The town is full of more or less wealthy Greeks in the summer season, whether they have a summer villa nearby, moored the yacht in the natural harbor, or stay in one of the great hotels. There are also plenty of fine beaches, good restaurants and a busy nightlife.
Just across the bay lies the ruins of the ancient city Halieis, both on land and under water. The water level has in fact risen 2 meters during the last 2,500 years, and on wave-free days you can glimpse the walls in the water.
And if you really want to see how the rich live, drive on the small roads around Kosta, just south of Porto Heli. This is Beverly Hills in Greece, it oozes money. But it'ss very beautiful here, and it's not a long detour.
See also Kilada here, and Ermioni and Kranidi here.
Distance Nafplio - Porto Heli: 77 km via Kandia and Stavropoli.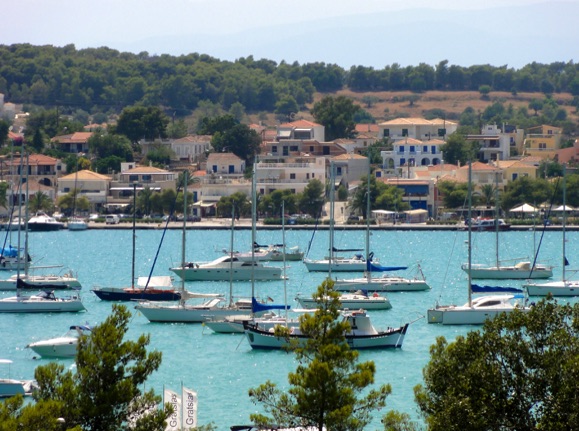 A (kind of) jet-set town and beautiful scenery
One of Porto Heli's beaches.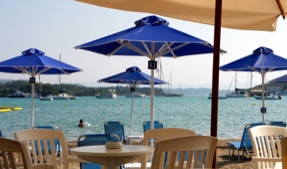 Beautiful coastal scenery.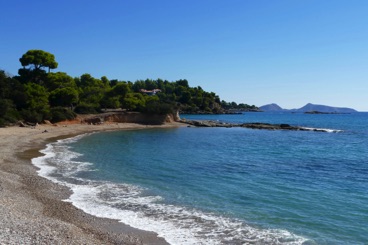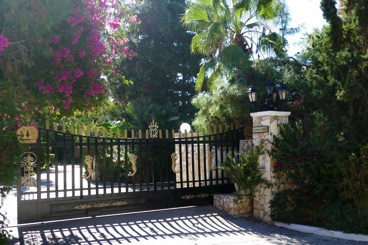 From the summer paradise near Kosta.