TOLO
Tolo is a fishing village that has grown and grown and grown because of tourism. This was one of the first Greek towns that welcomed mass tourism, and Tolo is still a destination for both charter and other tourists. And it's perhaps not at all surprising, for Tolo has a long, child-friendly beach with fine golden sand. The beach has a backdrop of hotels and taverns, and in the east end several campsites are located.
The town itself has not a lot to fall head over heels over sightseeing wise, but it's perfect if you want a holiday consisting of beach + nearby hotel + good taverns. It's founded in 1830 (and thereby a teenager in Greek context), but there is not much left of the once cute fishing village. However, Tolo a good place to be if you want a nice beach just outside the hotel door, and the town is far from unpleasant, just simply a typical laid-back and peaceful resort town. The short bus or taxi trip to Nafplio (9 km) means that you can go there if you sometimes want more atmosphere and beauty, or travel further by bus to experience Argolis' sights.
From Tolo you can also take excursions to some lovely islands, such as Hydra and Spetses, read more here, or rent a small boat at the beach and visit the tiny islands Koronisi, Romvi and Daskalio just a few minutes from Tolo. Also, there are nice paths on the hilltop behind Tolo if you like to go for walks in the beautiful nature. You can walk on a marked path all the way to Nafplio/Aria, remember to bring water!
But even if the town is relatively new, the bay itself has a long history, first mention by Homer. Later, many battle ships have sought harbour here, and the Venetians had a naval station here.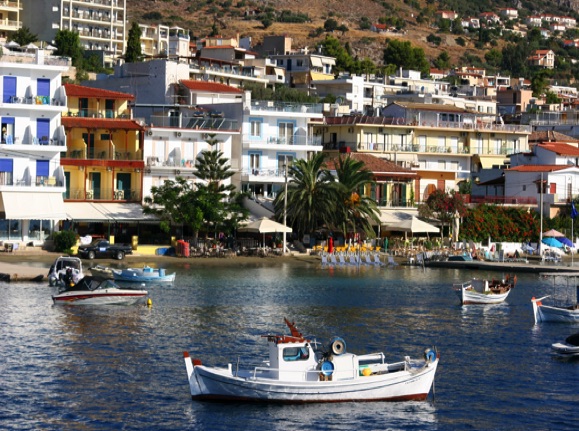 The looong beach, the beach hotels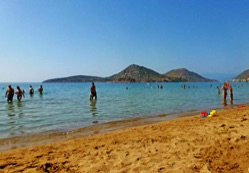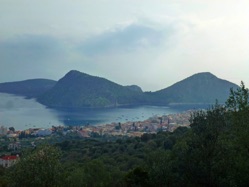 Easy living in Tolo, where many hotels are directly on the beach (here from Hotel Christina).
The beach (above) and Tolo seen from "the top".