PRONIA
Pronia is a lovely suburb, but with a totally different atmosphere than the elegant Old Town of Nafplio. No tourists, just Greeks happily living their everyday life. The main street through Pronia, 25. Martiou (top photos), is a lively place, with shops, small cafes, taverns and homes. The back streets are quieter, and although some apartment buildings have replaced quite a few of the original homes here, there are still many small, old houses to stroll between. Pronia is a lovely spot to visit, and a nice contrast to the Old Town. A typical, down to earth, Greek area!
People have lived in Pronia for thousands of years, but this was a sparsely populated area before the 1800s. After Nafplio's liberation from the Turks in 1822, a lot of people from Crete came here to enjoy that freedom. It was impossible to find homes for them all in the Old Town, and President Kapodistrias decided in 1828 that small houses should be built and given to them in Pronia. Actually, the name Pronia derives from a Greek word, pronoo, that means providing - in this case provide housing.
BAVARIAN LION
Carved into a rock in Pronia is a huge, sleeping lion. Maybe not what one would expect to see in Greece, but the story is as follows: When King Otto arrived in Nafplio in 1833, he brought with him several troops from Bavaria, and many of the men died of typhus during an epidemicity. Otto's father, Ludwig of Bavaria, asked the German sculptor Christian Siegel to create the lion as a memory of the dead soldiers, in 1841. (Street: Michalis Iatrou)
AGII PANTES AND THE TOMBSTONE STAIRS
The small church Agii Pantes is also to be found in Pronia, not far from the Bavarian lion. During the Turkish invasion (from 1715), this church was for a long period the only place in Nafplio that was allowed to give Christian sermons.
Old gravestones are laid as a floor in Agii Pantes, and are also used to cover the stairs leading up to the church. Agii Pantes is usually closed, but you can still see how it is partly built into the hill behind, and in front of the church you'll have a nice view of Nafplio and the bay. (Street: Agii Pantes)
The town's cemetery was once here, but it has since been moved some hundred meters to the north, and is worth visiting because of the beautiful tomb monuments.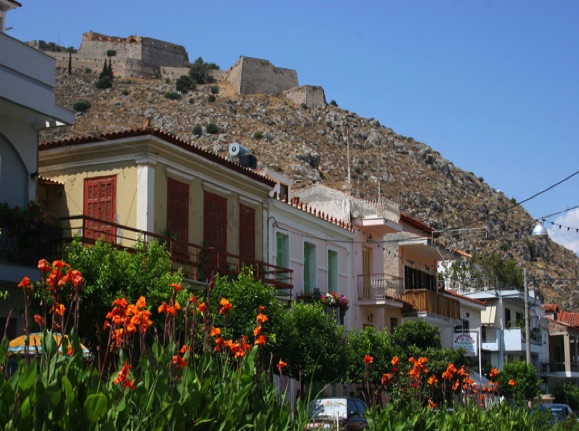 Real Greek life and a German lion
Left: Pronia still has a few of the small houses Kapodistrias let build for the refugees from Crete.
Right: Cheese shop in 25. Martiou street.