ATHENS
Athens may seem noisy, fussy and chaotic at first glance, but it's a capital that has a lot to offer, including peace and quiet, vast green areas, cosy neighbourhoods, fantastic museums and galleries, brown bars and cutting edge clubs. You can shop at a street market or shop Prada, eat pigs ears or gourmet food, go to a concert, follow a guided tour, or simply wander around the streets and soak up the atmosphere in this modern and vibrant city that is packed with history.
We'll most warmly recommend a trip to Athens, and if you arrived in Greece at El. Venizelos, Athens airport, it's easy to add a stay in the beginning or end of your holiday. A complete list of what Athens has to offer is obviously impossible in this context, but here are some keywords:
Dive into history and visit the Acropolis and the fabulous New Acropolis museum, Temple of Hephaestus (big picture), Agora and The Wind Tower, Hadrian's Arch and the Zeus Temple, the Old Olympic Stadium, The Archaeological Museum and Ancient Athens cemetery, Keramikos. Get a sense of how the temples looked like when they were new, by walking in Panepistimiou Street and see the three buildings: the Academy, Library and University.
There's a plethora of museums and galleries in Athens, and almost impossible to choose just one. A handy tip is to check sites like athensguide.org, eventful.com and ticketsservices.gr. And maybe your receptionist has many a good idea?
Syntagma means Constitution, and in Syntagma Square in Athens you'll find the Parliament, which was originally the castle of King Otto. A tourist magnet in particular because of the Evzones, the skirt clad guards who march like roosters. Best seen at 11 on Sundays, when they're all there, "changing guards".
Go hiking in one of the many parks. Our favourite is Filopappo Hill; other excellent green areas are the National park close to Syntagma, Pnyx Hill, the gravel road between Agora and Ares Hill (pictured top right) and Lykavittos Hill, where a cable car pulls you up the last steep rise. Lykavittos is truly romantic at sunset.
Visit different neighbourhoods and note the differences. All first time visitors to Athens go to Plaka, the oldest part of town, filled to the brim with cute small houses and narrow, winding streets, but also hundreds of souvenir shops and thousands of tourists. We'd rather spend our time in the areas: Thissio - Gazi, much more laid back and Greek; Psirri, which is dominated by cafes and small shops in the daytime, but becomes one big bar around 11 in the evening; and a bit north of the city, Kypseli, which has a long, park-like pedestrian street, Fokionos Negri ,lined with cafes, bars and restaurants in all categories. In the latter district, you can really experience the day-to-day life of Athens.
A huge selection of restaurants, of course. Eat well in one of the districts we have mentioned above, but not in Plaka, where the quality often is low and prices high. Kolonaki, Iraklio and Kaisariani are also districts where it's nice to search for good eateries. Our favourite, Kuzina, is in Adrianou 9, Thissio, it doesn't only offers an adventurous menu, an extremely accomplished chef and great wines, but also a roof terrace where you enjoy a drink before or after the meal, (or the whole meal if you book early), overlooking ancient Athens.
Ermou is the main shopping street in Athens, where you'll find the well-known chain stores, from the cheapest to the more exclusive. More exciting, we think, is to shop in stores that don't exist "everywhere". Patission Street, for instance, further north from the Archaeological Museum, has miles of (especially) clothing stores. For those with exclusive taste, go to Kolonaki, where the really famous designers, Greek and foreign, are keeping house, to Aegli Shopping Centre in Kolokotroni 8, or take the green metro line up to Kiffisou, this luxury district is a journey worthy of its own accord. Back downtown, the huge food market at Athinas Street sell pieces of meat you didn't even know was possible to eat, but also other food. And last but not least: Our beloved sandal maker, Melissinos in Agias Thekla 2, Psirri / Monastiraki, creating comfortable leather sandals from 13 Euros upwards. Fitted individually. While you wait. Can it possibly be better than this?
- The distances downtown Athens are nothing to worry about, but if you'd rather not walk, do use the metro! It's super effective, with clean, tidy and often very elegant stations. Buy a day card or three-day card, and you can use the metro and buses as much as you desire.
- Another possibility to easily reach the sights in Athens, is to purchase a ticket on the bus "Athens City Tour", which takes you around the city. Go on and off the bus wherever and whenever it suits you. See more here.
- Athens Walking Tours takes you to many of the city's great sites by feet, accompanied by a skilled guide. Check out the food tour!
Finally, Athens is one of the safest capitals in Europe, but watch out for pickpockets. And stay away from Omonia Square and the area west and southwest of the square after dark.
Some good sites for further reading:
Athens Info Guide and Matt Barretts Athens Survival Guide.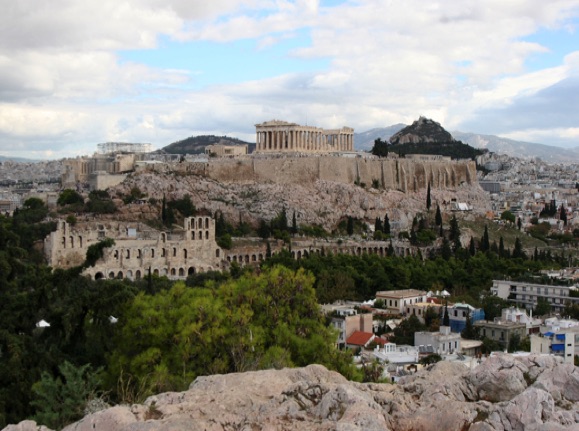 Acropolis and the Herodes Attucus Theatre (over), and the Hefaistos Temple (below).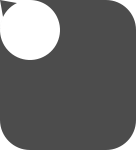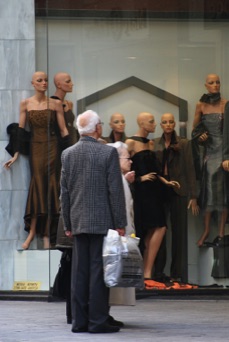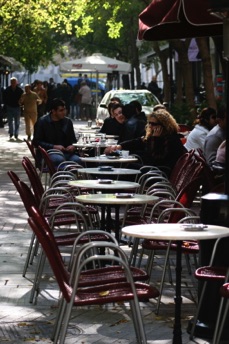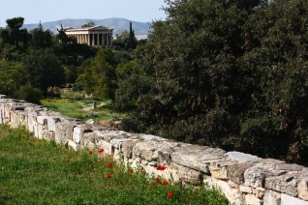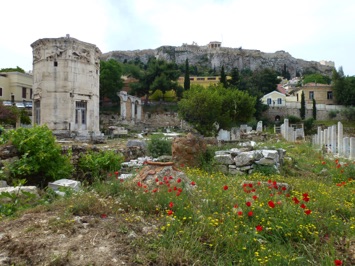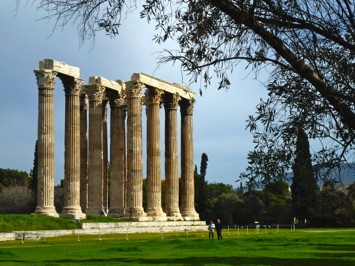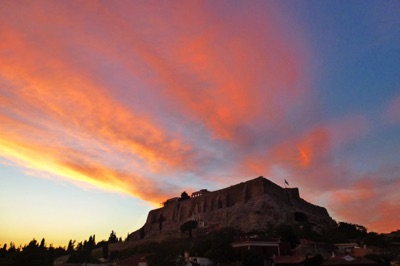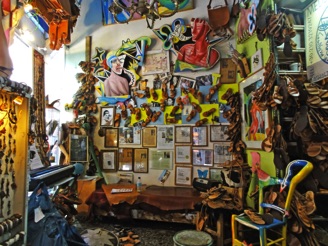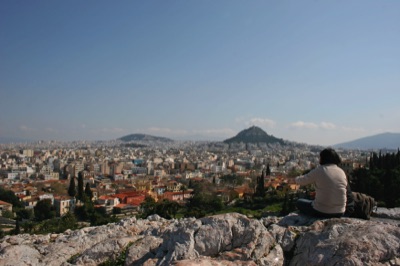 Window shopping in Ermou (over),
and Melissinos the sandal maker (below).
Clockwise from left: Acropolis, Tower of the winds,
The temple of Olympian Zeus, the view from Pnika/Filopappo.