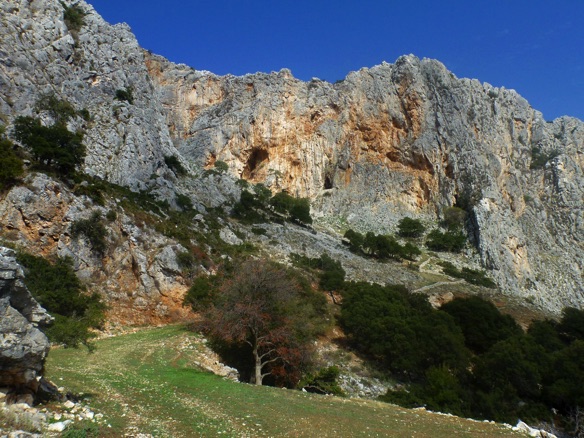 CHRYSOSPILIOTISSA
The name means Gold cave or Golden cave, and we must just assume that it's the colour of the mountain that has given its name to this cave church. It rests at about 700 meters altitude, in the southeast end of the Arachneo Mountain. Walk up (the road starts at about 200 m a.s.l.) or drive (almost) up, whatever you chose, the incredible views are worth the whole trip. The mountainous landscape around you just gets more and more mighty, high up you see the sea far below, and you'll pass a tiny little village also named Chrysospiliotissa, with maybe a handful of inhabitants of the human kind and oodles of goats and chickens.
We know nothing about this little mountain church, if truth be told. Inside the cave stands an altar, and some icons are displayed on the walls. It is so incredibly beautiful up there, it's an almost sacred feeling whether you are religious or not. Anyway, there is almost no information on the web or in any of our guidebooks about the cave. And that makes it extra special to be at Chrysopiliotissa, it's almost like going on a journey of discovery into the unknown.
Bring food and drink, there is nothing to buy after you pass Ligourio.
GETTING THERE
You'll need a car. Follow the signs from Nafplio to Ligourio. From Ligourio, drive the old road to Nea Epidavros, which is unmarked: Driving on the main road in Ligourio, turn left on a mere suggestion of a hill in the western part of the town. There is no sign to Nea Epidavros there (IF you see a sign to Nea Epidavros, you'll be send out to the coast and then northward, but it's a big detour) but the geo coordinates at the intersection is 37 ° 36'44. 68 "N / 23 ° 2 ' 8.94 "E. The street name is actually Nea Epidavros, and it stands on a street sign on a building, with Greek letters (Νέα Επίδαυρος / ΝΕΑ ΕΠΙΔΑΥΡΟΣ). Just ask if you can't find it!
Follow this road north for about 4.4 km. Then you will see a church (Ioannis Theologos) to the right and a sign saying Chrysospiliotissa pointing left. Then choose: Drive or walk. You can drive almost up, on a road that is mostly paved, or walk up. It's about 5 km one way, and the climb is about 500 meters, but what an adventure! You may meet a car or two, or a person or three, and certainly lots of goats, but it is a wonderful trip, so we recommend walking (at least part of) the way.
The cave church in the golden mountain
Curious goats
you will meet on your way
A fraction of the view (above), and
an image from the church (below)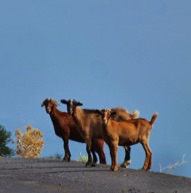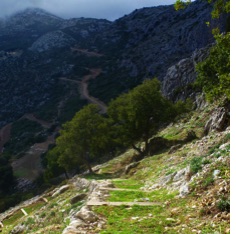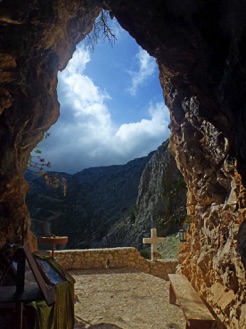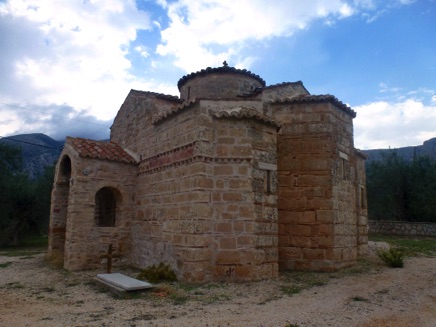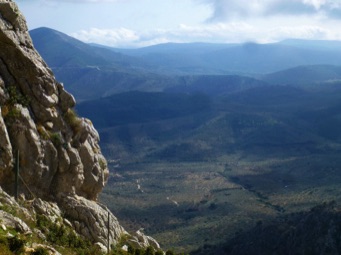 Aigios Ioannis O Theologos