DERVENAKIA
In the Kolokotronis park (city park) in Nafplio captain Theodoros Kolokotronis sits on horseback and points. And he points to Dervenakia.
Dervenakia is located on the border between Argolis and Korinthia, and here Kolokotronis and his men fought and won a very important battle against the Turks during the Greek War of Independence. The battle took place in July 1822, just months before Nafplio was freed.
Kolokotronis' army was only a tenth of the Turkish, so Kolokotronis had to use considerable ingenuity to overcome them. In the narrow Dervenakia pass, he placed his troops so cleverly that they surprised the unprepared Turks and killed 3000 of them during the battle.
Now a marble statue of Kolokotronis stands tall, looking out over the pass. Unlike in 1822, Kolokotronis is visible from a distance, gleaming white in the middle of a bright green forest. This forest seems unique, we have rarely seen such a diversity of tree species in a Greek forest, and it is inviting for short walks and long picnics. On the way up to the statue, we pass a couple of taverns, a couple of small monasteries that are also worth a look, a little site that tells about the battle (in Greek), and up by Kolokotronis we can enjoy panoramic views of soft hills and lush olive groves.
You can drive all the way up to the statue, and although Dervenakia of course not is the most impressive sight in the area, it's a nice place to stop by if you are in the neighbourhood, for example on your way to Corinth or Nemea.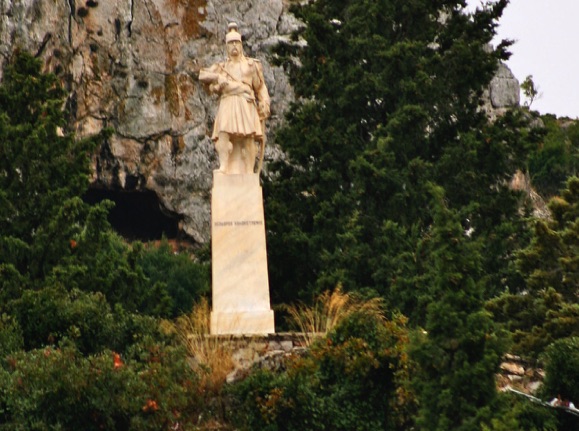 The clever Kolokotronis and a unique forest
Painting by Theodoros Bryzakis,
painted on the basis of eyewitness accounts
from  the battle in Dervenakia.

Dervenakia is
located 30 km north of Nafplio.