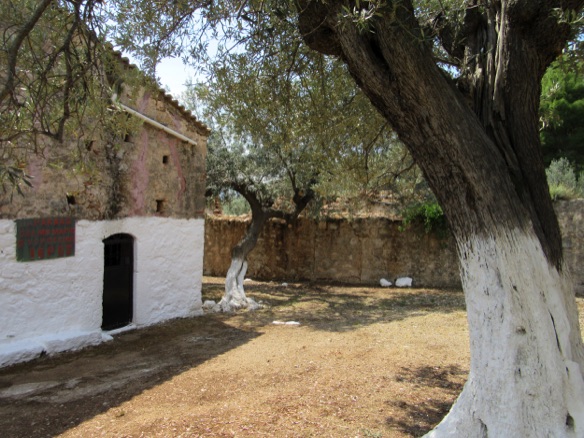 TWO MONASTERIES
IN EPIDAVROS
Panagia Polemarchas was founded near a beach north of Archea/Palia Epidavros. But even before they had finished building it, the monks realized that they were too exposed to pirates. They left the semi-built monastery, settling in another monastery instead.
At another monastery, Agnountos, a little further north munks chose to build tall, strong walls around their monastery. Both can be visited and they are both interesting in their own way.
The monasteries and the pirates
The monasteries are located on/near the same road, which runs north along the coast from Archea/Palia Epidavros.
You'll need your own car. Both monasteries are signposted, Agnountos is located just off the main road, Polemarcha 2 km from the main road on an ok but steep road.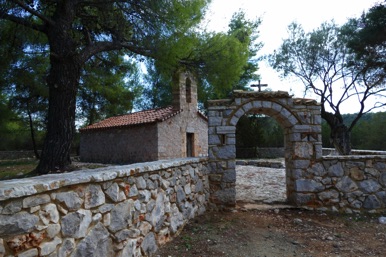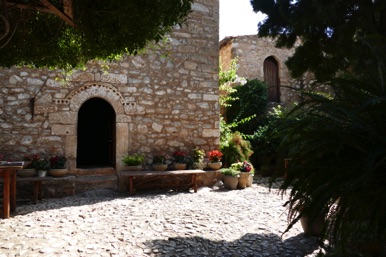 significantly. Just as the monks at Polemarcha, the monks at Agnountos feared the pirates.
A hundred meters away lies the small Agios Ioannis chapel from 1766. The monks used this for funerals.
A sign at the entrance of the monastery says that women in pants will not be allowed to enter, but you can borrow a skirt at the small monastery shop.
This is the oldest and one of the most beautiful monasteries in Epidavros, and worth a detour. Agnountos is located approximately 4 km north of Nea Epidaurus, and roughly 9 km north of Polemarcha. It has a lovely church from the 11th century, with frescoes from 1250. The monastery is surrounded by eight meters high, thick walls, and appears as a small fort, but all the plants in the cloister garden soften the appearance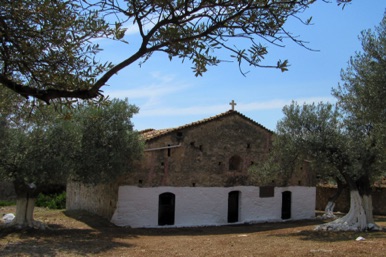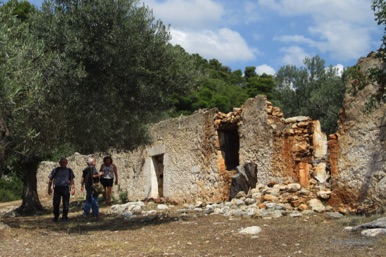 Today the church is still in standing, but the monk cells are partly collapsed. In addition, we see ruins of a huge water cistern. Down by the beach it's usually blissfully peaceful, but we see that there are people here sometimes, because occult (?) objects hang in the trees, and little alters are located here and there. Perhaps today's Greeks are as excited about the tranquility and beauty here as Antonios was?
A monk from Kalamata, Antonios, arrived early in the 1400s, attracted by the picturesque and peaceful beach and beautiful nature. Soon others joined him, and they started building a church and monk cells. But before they were finished, they realized that this was a place too exposed, for pirates ravaged along the coas. Tehrefore, they sought refuge in another monastery.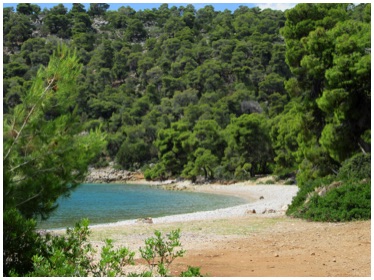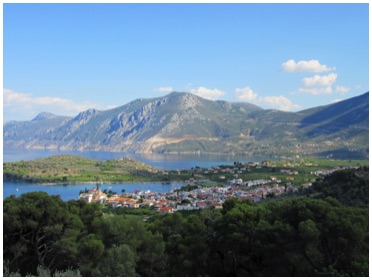 On the main road between Archaea/Palia Epidavros (photo) and Nea Epidavros is Stork, a cafe and tavern where you can enjoy this great view.
If visiting the monasteries, check out the page called The Other Epidavros'es, there's much more to experience in this part of Argolida!