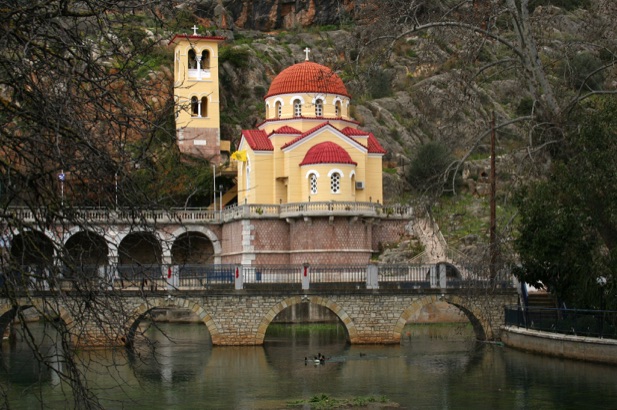 KEFALARI
In the lovely green village Kefalari is a church, Zoodochos Pigi / Ag. Maria Kefalariotissa, which is quite unique. First, it is built over the Erasinos River, which forms a lake at the church. Secondly, half of the church is located inside a small cave. There are actually two caves, side by side, the little that is part of the church, and a considerably larger that now houses an icon collection in its mysterious, almost sinister interior.
In 1822, freedom fighter Kolokotronis and his army hid in the large cave before a decisive battle. But he was far from the first hiding here. The cave has been inhabited or at least used since the Stone Age, about 35,000 years ago! Sheep have also taken refuge here, and they were the inhabitants when an icon of the Virgin Mary was found in the depths of the cave. Because of this find, the church was built, and the icon of Mary is visited by hundreds of pilgrims every year.
But do not think that this fact encourages a strict religious atmosphere. Most of the pilgrims, like you, are in holiday mood, and when they have visited the church and kissed the icon, they sit down at one of the taverns by the river and enjoy a coffee or a meal with their party. A good idea!
Let's just add that the river and lake is more or less dry in the summer and autumn, for the full experience, go here during spring if you want to see the water, then it's (usually) there!
Continue to Elliniko and Zogka for more sights in this area!
The cave church over the river