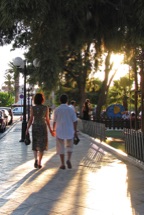 MEGALOS DROMOS
"Megalos Dromos", Great Road, the Nafpliots still calls it, although it's long ago named Vas. Konstantinos. This is the main artery through Nafplio, mainly car-free and full of life, ambience and culture.
We begin at Syntagma Square. Megalos Dromos is the road that starts just to the left of the old mosque in the east of the square. This part of the Great Road offers us beautiful neo-classical buildings, lush bougainvilleas, small shops and nice cafes. You can buy clothes or jewellery, have a coffee or a light meal, and perhaps do a bit of people spotting.
Soon the road leads us to The Three Admirals Square with its Town Hall, across Sygrou Street, past the Court House and Kapodistrias' statue, and into the park, where we walk in the shade of pines and palm trees. Here is also a fenced playground for children, and Kolokotronis, which the park is named after, sitting on horseback. (See here if you are wondering who is hiding behind these names.)
In the eastern end of the park we find another big playground, recently upgraded and often full of happy kids and their parents or grandparents. Behind the park, we'll see a huge roundabout, Endekati. Here Megalos Dromos ends, and we are in the shopping area of the New Town and near the suburb Pronia.
It was Greece's first president, Ioannis Kapodistrias, that had Megalos Dromos built on the pattern of great European cities. It originally ran from his palace on The Three Admirals Square to Syntagma.