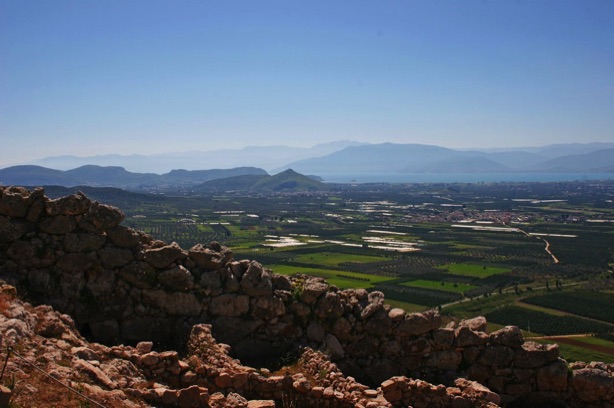 MIDEA AND DENDRA
There are three major Mycenaean cities in Agolis: Mykines, Tiryns/Tirintha and this one: MIDEA. While 95 percent of the visitors seem to go to Mykines, most of the last 5 percent visit Tirintha. Wich is a pity, because both of the less famous sites has a lot to offer. Midea has been upgraded the last years, with paths for easy access all over the site, and useful information boards (in English) next to all the interesting parts of the excavations. We can still see the massive cyclopean walls that formed the defensive system (pictured above), ruined buildings, rooms and gates. There's a free leaflet at the entrance that will help you exploring the site.
Then again, maybe the best things in Midea are the peacefulness between the over 3000 years old stone walls and the breathtaking 360 degrees view. Even if you're not that interested in archaeology, we think you will enjoy a trip to the Midea site.
Mycenaean Midea is a fifteen minute walk south of the much more modern village of Midea. Via Argos you can catch a bus to the village, find the route on KTEL.
Mycenaean citadel and cemetery
Midea is set high and beautiful, and from the top there are wonderful views in all directions.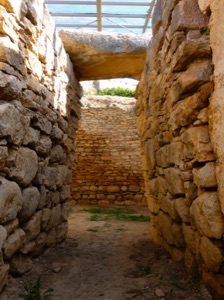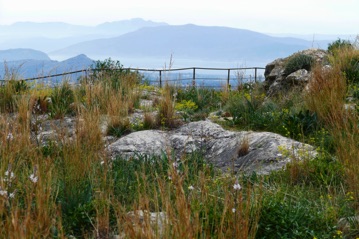 Nearby, (by car) we can and should also visit DENDRA, where the upper class in Midea was buried, either in tholoi, graves shaped like huge beehives, or in chamber tombs. A tholos and several burial chambers can be seen even today, in addition to the skeletons of horses. The horses were symbols of power and prestige, and those that are found in Dendra were probably sacrificed to the gods.
One of the finest artifacts in the Archaeological Museum in Nafplio is a bronze armor found in Dendra.
Driving between Midea and Deandra, close to the village Manesi, you'll glimpse a small church on a hillside. This is AGIOS THOMAS, many believe it's built on the ruins of an old temple. Inside the church has beautiful murals, and there's a pleasant picnic area at the foot of the little hill, sometimes with springing water.
Entrance to Midea and Dendra is free, but Dendra is closed
during weekends (2016).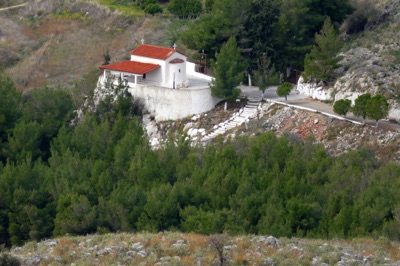 Ag. Thomas seen from Midea.