TIRYNS
There are several Mycenaean cities in Argolis, such as Mykines and Midea, but if you're only going to see one, it might as well be Tiryns (also written Tirynth, Tirintha etc.). Granted, Mykines is significantly more known, and considerably larger, but in Tiryns you somehow get a stronger sense of what kind of a place this was in Mycenaean times, and usually you'll have the place more or less to yourself - as opposed to Mykines where busloads of spectators arrive all the time.
People first settled in Tiryns in the Bronze Age, 7000 years ago, but what we see today are mainly the remains of city walls from around the year 1300 BC, e.g. the Mycenean era. The myth tells us that the massive walls, which we find not only here but also in Mykines and Midea, were build by the Cyclopes, creatures with superhuman powers. These so-called cyclopean walls are up to 10 meters thick, and made of stones that weigh up to 13 tons.
What makes Tiryns  extra special is the long passages under the acropolis, between the outer and inner walls (main photo). The passages have walls worn smooth by all the sheep that have sought shelter here over the centuries.
When old Tiryns was inhabited, the sea went all the way up to the walls; now the view is wide and long down to Nafplio and the bay.
It is a fascinating and impressive site, and not further from Nafplio than that it may be ok for you to walk. Bring water! Or hop on the bus to Argos, it passes Tiryns on its way.
Finds from Tiryns can be seen (and admired) at the Archaeological Museum in Nafplio.
DISTANCE from Nafplio: 3,7 km, check KTEL for bus routes.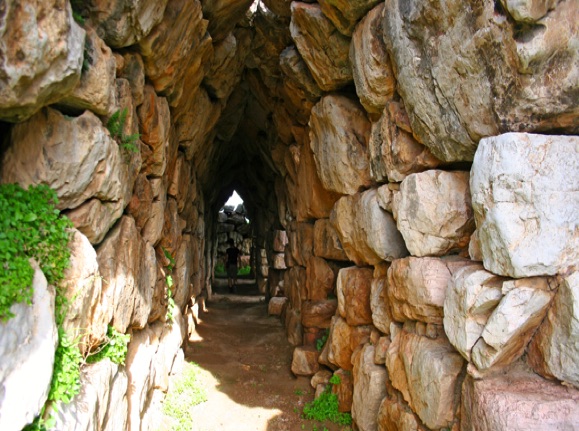 The cyclopes' impressive labour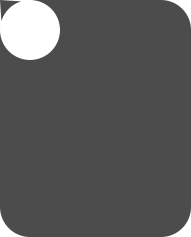 "The Greeks appear apt to regard with greater wonder foreign sights than sights at home. For whereas distinguished historians have described the Egyptian pyramids with the minutest detail, they have not made even the briefest mention of the treasury of Minyas and the walls of Tiryns, though these are no less marvellous."  
        Pausanias, 2nd century AD
THE BEEHIVE TOMB IN TIRYNS
Secluded and seldom visited is this spectacular tholos (beehive tomb) in Tiryns. It is incredibly well kept, about six metres high and six meters wide, and painstakingly built stone by stone, this tomb of some important person who lived in Tiryns over 3000 years ago. Note also the three huge boulders across the entrance. How did they get them there? The tholos is really worth a visit!
From Nafplio, turn left as you come to the Tiryns acropolis (the road is signposted N. Tirintha), then follow signs to the tholos. Park at the gravel road and walk a couple of minutes through a peaceful orange grove, and eureka: the tholos is there.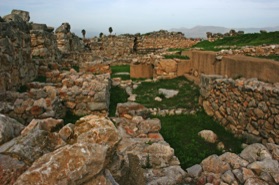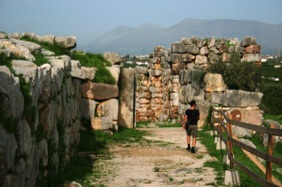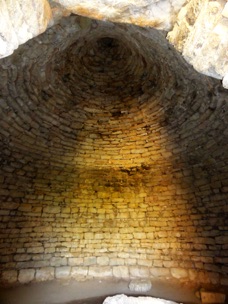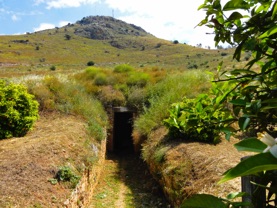 Unesco
World
Heritage Site